Having just passed our 2-year anniversary, we are not only looking forward to the year ahead but reflecting on where we started. My past employment incorporated 23 years in estate agency (at all levels) so when I started the business back in 2016, my client base was primarily focused on estate agents as I had the contacts and knew the business inside out.  Since then we have pushed on no end adding new team members, new equipment and building up new clients.  I now believe we are the UKs leading Matterport Service Partner and tour provider with currently over 600 live tours and working with internationally known brands and clients including the likes of Oxford University, Cambridge University, Crest Nicholson and Linden Homes . However, this does not mean that we have abandoned our roots because we still work an awful lot with Estate Agents.
I wanted to look at how our VR tours are working within the Estate Agency world. Looking at the statistics for scanned Estate Agent properties alone for 2018 we have found the following…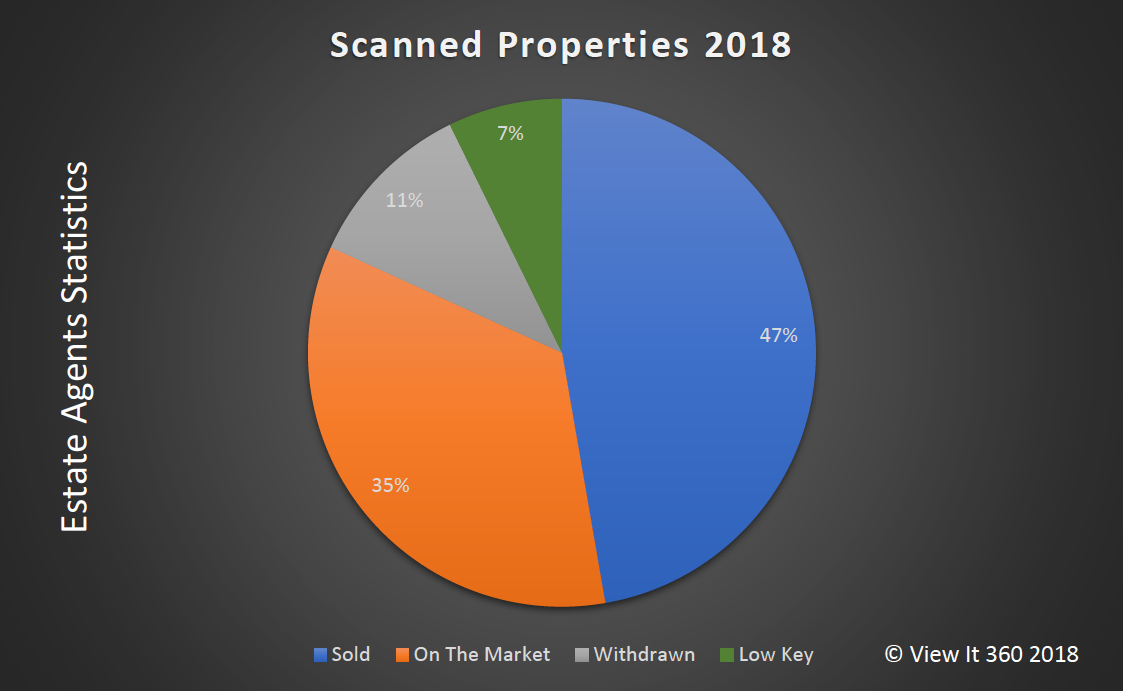 The graph shows that 82% of properties scanned in 2018 have either sold or are currently on the market with 11% being withdrawn and only 7% being moved to low key marketing.   We are hugely proud of these figures as to put this in to perspective, research carried out by Reapit (an estate agent software provider) has shown that in 2017 almost half (45%) of homes brought on the market across the UK were not sold but withdrawn. This spate of withdrawals has continued in to 2018 where the number of properties withdrawn from the market in the second quarter was greater than the number of completed sales.
According to Reapit, the losses for Estate Agents could have cost them an accumulative C.£4bn in commission last year so our low withdrawal rates show that our tours help keep vendors motivated as we supply them with their monthly statistics which shows they are getting viewings and therefore alternately earns the agent more commission from retaining these clients and then selling the properties.
The Winter Market
We know that the lead up to Christmas can be a quiet for some Estate Agents (more so with Brexit lurking around the corner) as vendors and potential vendors will often be put off the marketing of their property until the spring as they want to advertise in the "spring market".
As many agents now know, Rightmove statistics often show the busiest time of year for hits and clicks is between Christmas Day and New Year's Eve as people have new devices and are planning towards the year ahead.  So why not take advantage of this hive of activity, not only to advertise properties for sale but to advertise your brand?
Looking ahead
We have some great projects lined up for the next couple of months with really innovative thinking on how to use our products and equipment to the highest of their capabilities. We already provide our Estate Agents with more VR tour selling tools than any other provider we are aware of, and the exciting thing is we have even more products launching in early 2019 so keep a look out, I guarantee you will be impressed with the services on offer.
If you are interested in how our tours can help you sell more properties, increase brand awareness and keep your withdrawal rate low, then please get in touch and we will be delighted to come and see you.